Give to the Max Day has become a tradition as an annual Minnesota fundraising contest. This year, we are dedicating our Give to the Max Day funds to our Adaptive Recreation Program. We are asking you to consider donating to help us continue offering the same quality programs for our adaptive recreation participants. Here are some examples of how your money can work for us:
$10 = One month of unlimited Spotify music for karaoke nights, dances, and other programs
$25 = Staffing for one On The Town community outing
$50 = Staff game ticket & parking to a Rec sporting event
$100 = A dance for 50 people with snacks and staff expenses
$250 = A Pizza and Bingo Night for 35 people (includes pizza, soda, and prizes for everyone)
$500 = 2 hotel rooms (covers 3 participants and 1 staff) for Weekend Ventures
$1,000 = A cabin for 15 people at Camp Courage for Weekend Ventures
Celebrating its 11th year, this special day of supporting Minnesota nonprofits has some exciting opportunities in play. Each day, November 1-13, a drawing will take place from all donors that day to award an additional $500 gift to the giver's charity.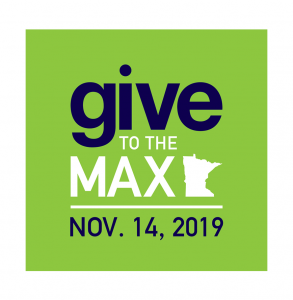 On Thursday, November 14…
$500 drawings will take place from givers of every 15-minute time period. That's $500 being awarded to various nonprofits every 15 minutes, all day long!
$1,000 drawings will take place from givers of every hour throughout the day.
A $10,000 drawing will take place from all givers during the November 1-14 time period.
The top three nonprofits that raise the most money during two "power hours," starting at 10 a.m. and 10 p.m., will receive $3,000, $2,000, and $1,000.
Plus, Reach has $15,000 in matching funds from generous supporters at stake. These are in the form of three separate $5,000 matches, one in honor of David and Mary Ellen Kaul.
This means that we need your help to not only secure these matching funds, but to also give us opportunities in the drawings. As an example, if you are able to consider giving us $20, it would help us even more if you make four $5 gifts either on different days, and/or during different 15-minute time periods on the 14th, rather than one $20 gift. Those combined, smaller gifts ($5 or greater) give us more chances in the drawings. However, any gift, at any amount, is greatly appreciated and will count toward our matching gifts. Can you help?