Weekend Ventures (Respite)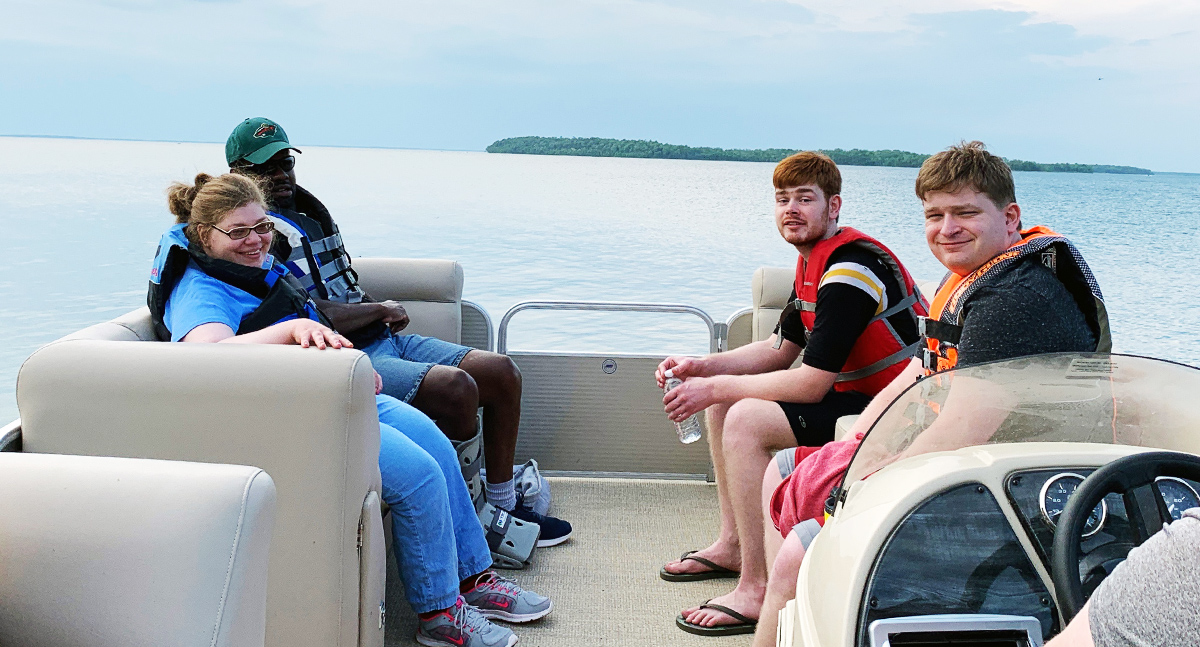 What is Weekend Ventures?
Weekend Ventures is an overnight respite program that takes place six times each year. Each weekend has one main activity that the group does together. We have a maximum number of six participants per weekend and participants are limited to one weekend per month.
Upcoming Weekend Ventures



Coming Soon! Fall & Winter Weekend Venture programs.
Please contact Brie at [email protected] or 952-393-4277 if you have any questions.
Frequently Asked Questions

(Click on each question to learn more)
When and where do the weekends take place?
The first and second weekends of the each year are in March and/or April. We include a one-night stay at a hotel in Bloomington with a pool party and board game night on Friday evening and a group outing to the Mall of America on Saturday.
The third weekend is at the end of August. It is an overnight stay at a hotel in Bloomington, playing games, watching movies, and visiting the waterpark on Saturday.
The fourth weekend is at the end of August. It is an overnight stay at a hotel in Bloomington with games and swimming on Friday and a group outing to Valleyfair (rain or shine) on Saturday.
The fifth and sixth weekends are in December. These include a pool party on Friday night as well as lunch and a theater type-outing on Saturday.
Each weekend begins with check-in at 6:00 p.m. on Friday and ends with check-out at 3:00 p.m. on Saturday. When the group is not participating in the main activity of the weekend, time is spent getting to know each other, playing games, doing crafts, and watching movies. Reach does not provide dinner on Friday night, but will always provide snacks and drinks. Breakfast is provided by the hotel. Individuals are asked to pay for their lunch when we are out in the community for the MOA, Valleyfair, and Downtown weekends.
How big is the group?
We never have more than 6 participants for a given weekend.
How many staff work the weekends?
Each weekend has a staff to participant ratio of approximately 1:2. For example, if the weekend was maxed out at 6 participants, there would be 3 staff working the weekend. All staff are 245D certified and one staff distributes all medication as needed. Our staff are very experienced and decide room assignments based on common interests, community independence levels, and personal care needs.
What are the costs of the weekend and how do I pay?
For all weekends, the out of pocket cost is $973.08. All planned activities and most meal costs are included in these registration fees, which can be paid out of pocket or with a waiver (CDCS, DD, CADI). Participants bring extra money for lunch on all of the weekends. Intake meetings are required for new and returning participants. These can be virtual or in person. Paperwork needs to be completed at least two months prior to the scheduled weekend.
I am interested in signing up. How do I do so?
To register for a weekend, please email our Assistant Director of Adaptive Recreation & Inclusion, Brienna Max, [email protected]. She will send you the necessary paperwork to register for the weekend, which must be completed and sent back prior the registration deadline. Any additional questions can also be sent to Brienna, or you can call her at 952-393-4277. We ask that all Weekend Ventures participants be registered at least four weeks prior to the scheduled weekend.
What is the deposit policy?
Registration for Weekend Ventures requires a deposit to hold your place. Your deposit is due at the time of registration. The deposit is a flat rate of $250. For individuals paying out of pocket: The remainder of your program fee is due 30 days prior to the program date. For individuals paying with waiver funding: Only one deposit is required when signing up for programs. Your waiver will be billed after attending the weekend. After you attend the weekend, you may choose to have your deposit refunded to you, or transfer it to another weekend you plan to attend. You do NOT need to pay multiple deposits at one time, only one deposit for the year (see above). Pay your deposit online under the appropriate WV Program registration: reach.recdesk.com.
What is your policy on registration and cancellations for Weekend Ventures programming?
Due to staffing demands, supply costs, and hotel room costs, we require all Weekend Ventures registrations to be confirmed four weeks prior to the first day of the program. Late registrations (within a four-week window) may be accepted if there is space in the program. Cancellations that are made with less than four weeks' notice will incur a fine of 50% of the out-of-pocket program costs. This will not be covered by the waiver.