Imagine how disheartening it would be if you knew you needed support but were refused when asking for help. That's how some people feel when they do not qualify for disability services. Fortunately, Hennepin County knows that Reach, along with two other metro agencies, can be an option for these adults. As the only service provider in the West Metro offering Community Contract Services through our Independent Living Support Services Department, Reach will pair individuals without waiver funding with an Independent Living Specialist and/or Employment Specialist to provide needed services.
When people can simply provide proof of a disability, and in some cases, approval from their county case manager, we at Reach will assist them at the same level as we would for our other similar services. Community Living Program Manager Larissa Beck says of our ability to offer community contracts, "This is at the heart of who we are and what we want to do. We just don't want to turn anyone away, so we're always finding a way to be flexible."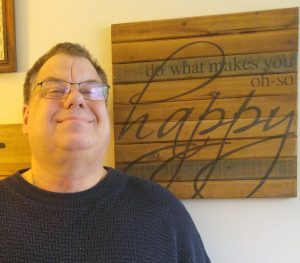 Mitch (pictured here) has received support through Reach's Community Contract Services for about six years so far. He says, "It has been excellent for me because I've learned to live on my own. I've been very happy."
Though Community Contract Services involves less paperwork and has fewer requirements for assessments, authorization, etc., Reach still sets this up as an outcome-based program, tailoring to each individual's needs and goals and conducting regular reviews with the person to ensure that they are on the right path for what they want to achieve. Larissa explains that each of the employees she supervises is cross-trained and works with people of different types of service contracts. Therefore they offer consistency of services, regardless of a person's funding for their services, whether community contract, county-funded services, or waivered services. Currently, about 20 people have a community contract through Reach, and not only has their Reach support provider built a personal connection with them, but so has Larissa.
In some cases, a community contract acts as a transitional approach until the individual becomes eligible for a waiver or county funding. Larissa explains that through this program, we are able to begin forming long-standing relationships with people, and then even when they switch to a different type of contract, they often continue to stay with our services. Considering Reach has offered Community Contract Services for a decade or more already, Larissa states, "It has made us much more nimble over the years."