Come work for us and make a difference in the lives of others!
Reach employees support others in making their lives richer and fuller. In the world of nonprofit employment, our staff members provide adaptive services, mental health support, independent living services, and case management assistance. We do this by providing individualized services that maximize independence, promote community involvement, and improve physical and mental well-being. Reach won a silver level Wellness by Design Award in 2019 from Hennepin County for our worksite wellness initiatives focused on employee health and well-being.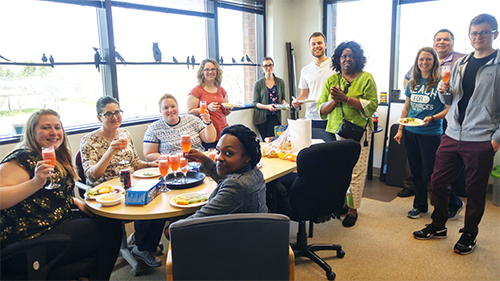 See what working at Reach is all about.
An Equal Opportunity Employer
Reach for Resources, Inc. is an Equal Opportunity Employer. Reach for Resources, Inc. does not discriminate on the basis of race, religion, color, sex, gender identity, sexual orientation, age, non-disqualifying physical or mental disability, national origin, veteran status or any other basis covered by appropriate law. All employment is decided on the basis of qualifications, merit, and business need.
Employee Benefits
We offer a comprehensive benefits package for regular full-time employees (those who are regularly scheduled and who work 32 hours or more per week). Our nonprofit employment benefits package includes:
Medical Insurance
Dental Plan
Group Life
Short-term Disability
Generous Paid Vacation & Sick Leave
Flexible Schedule
Retirement Plan
Mileage Reimbursement
Free Parking
Read how Margaret, one of our staff members, approaches her job.
Discovering and Achieving Dreams
By Sydney Urban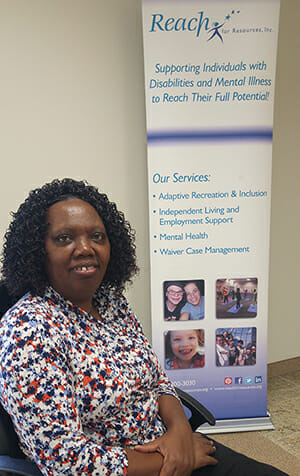 Ask Margaret Nyoike how she's doing, and the response will usually be "blessed." This simple but meaningful response captures the attitude Margaret portrays in her job at Reach for Resources. As a Community Living Specialist at Reach for almost two years, Margaret loves making a difference in people's lives. Margaret explains that she never considers it a burden beginning a work shift, but more of an opportunity to inspire. She has had several different jobs before this one, but Margaret describes Reach as her home. With down-to-earth bosses, she feels like she can go to them for anything. Margaret highly recommends working for Reach to anyone who wants a stable job and wants to change lives.
When Margaret first starts working with her clients, her goal is to discover what their dreams are. Once their dreams are discovered, Margaret does everything in her power to make those dreams achievable.      > Read full story