Reach offers a variety of adaptive recreation programs that are specifically adapted to meet the needs of people with developmental disabilities. Our programs are designed to promote physical health, build social skills, enhance community integration, and provide breaks for caregivers. The Adaptive Recreation department specializes in empowering individuals, helping them gain confidence, and enhancing team building skills.
Adaptive Sports & Fitness Classes
We offer different activities each season for children, teens and adults including:
Bowling
Basketball
Kickball
Softball
Yoga
Zumba
Community-Based Social Activities
We offer a variety of activities for people of all ages.
On the Town Activity Groups – This program is for adults who are independent and can access community venues with minimal supervision. Activities may include dinner, movies, karaoke, bowling, swimming, athletic events and more.
Social Clubs – Groups are held weekly at local community centers for teens and adults. Includes games, movies, shopping, bingo and more.
Dances – Join your friends and groove to the latest hits on Friday nights. Locations and exact dates vary.
Social Seekers – This is a social group for teens and young adults with high-functioning autism.
Monthly Daytime Offering – If you are free during the day on weekdays, you'll be able to join us each month for a special program (games, a picnic, a meal out, etc.).
Arts, Crafts & Seasonal Fun
Art Abilities  (Ages 12+) – Art Abilities is a series of workshops that offers the opportunity to explore a variety of art media. The workshops will invite the participating artists to explore their creative interests beginning with warm-up exercises at each session, painting, drawing, journaling, creating masks, and other abstract creations to help the participants learn a different method of communication. This program is made possible by the voters of Minnesota through a grant from the Metropolitan Regional Arts Council, thanks to a legislative appropriation from the arts and cultural heritage fund.
 Seasonal Arts & Crafts – Each quarter we plan and facilitate crafts and other activities associated with the season.  We do everything from tie dye, to mother's day gifts, to gingerbread houses! Check out our quarterly newsletter to see our current offerings.
Respite (Weekend Ventures)
​What is Weekend Ventures?
Weekend Ventures is a weekend (or overnight) respite program that takes place 6 times each year. Depending on the weekend, we stay overnight 1 or 2 nights at a hotel or a camp. Each weekend has one main activity that the group does together.
When and where do the weekends take place?
The first weekend of the calendar year is in the beginning of February. It is a one-night stay at a hotel in Bloomington and includes a pool party and board game night.
The second weekend is in the beginning of March. It is a two-night stay at a hotel in Bloomington and includes spending the day on Saturday at the Mall of America.
The third weekend is in the beginning of June. It is a two-night stay at a hotel in Bloomington and includes spending the day on Saturday at Valleyfair (rain or shine).
The fourth weekend is at the end of August. It is a two-night stay at Camp Eden Wood in Eden Prairie and time is spent roasting marshmallows, playing games, watching movies, and much more.
The fifth weekend is in October. It is a one-night stay at a hotel in Bloomington and includes a pool party and board game night.
The sixth weekend is in the beginning of December. It is a two-night stay at a hotel in Downtown Minneapolis and includes seeing a play at the Children's Theater on Saturday as well as going out to eat.
Each weekend begins with check-in at 6:00pm on Friday and ends with check-out at 10:00am on either Saturday or Sunday, depending on the number of overnights. When the group is not participating in the main activity of the weekend, time is spent getting to know each other, playing games, doing crafts, and watching movies. REACH does not provide dinner on Friday night, but will always provide snacks and drinks as well as meals, if applicable. Individuals are asked to pay for their lunch when we are out in the community for the MOA, Valleyfair, and Downtown weekends.
How big is the group?
We never have more than 12 participants for a given weekend.
What age group do you serve?
Weekend Ventures is for individuals ages 16 and up, but most of the attendees are adults.
How many staff work the weekends?
Each weekend has a staff to participant ratio of approximately 1:2. For example, if the weekend was maxed out at 12 participants, there would be 6 staff working the weekend. All staff are 245D certified and one staff distributes all medication as needed. Our staff are very experienced and decide room assignments based on common interests, community independence levels, and personal care needs.
What are the costs of the weekend and how do I pay?
For the weekends that have 2 overnights, the out of pocket cost is $700. The weekends that involve just 1 overnight cost $300. All planned activities and most meal costs are included in these registration fees, which can be paid out of pocket or with a waiver (CDCS, DD, CADI). Participants bring extra money for food when we are out and about on 3 of the 6 weekends (MOA, Valleyfair & Downtown). If you are paying with a traditional waiver (not CDCS), a separate intake meeting must be set up to complete necessary paperwork at least 2 months prior to the scheduled weekend.
I am interested in signing up. How do I do so?
To register for a weekend, please email our Assistant Director of Adaptive Recreation & Inclusion, Nate Penz, at npenz@reachforresources.org. He will send you the necessary paperwork to register for the weekend, which must be completed and sent back prior the registration deadline. Any additional questions can also be sent to Nate, or you can call him at 952-393-5866. We ask that all Weekend Ventures participants be registered at least four weeks prior to the scheduled weekend.
What is your policy on registration and cancellations for Weekend Ventures programming?
Due to staffing demands, supply costs, and hotel room costs, we require all Weekend Ventures registrations to be confirmed 4 weeks prior to the first day of the program. Late registrations (within a 4 week window) may be accepted if there is space in the program. Cancellations that are made with less than 4 weeks' notice will incur a fine of 50% of the out-of-pocket program costs. This will not be covered by the waiver.
Other 
Adaptive Recreation 
Information
Softball season creates some great memories, as highlighted in this video produced by JZ Productions!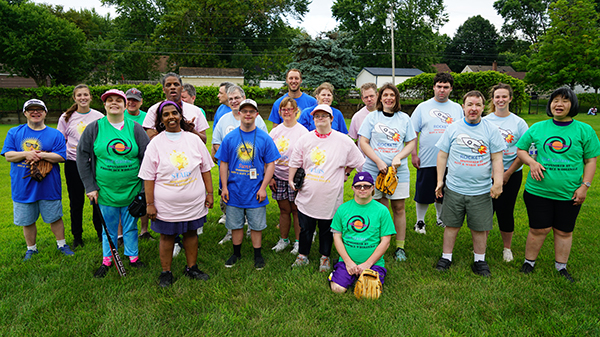 Want more info on recreation programs or have questions? If so, contact our Director of Adaptive Recreation & Inclusion, Emily Orr, at 952-393-5880 or eorr@reachforresources.org.
Accessibility
Reach strives to make it possible for individuals of all income levels to access services. Therefore, if program costs are a barrier to participation, Reach may be able to subsidize the cost based on your individual situation. Please call 952-393-5880 for more information.
Have a great idea for a new Adaptive Rec program?
Let us know by completing the form below.