Reach offers a variety of recreation programs specifically adapted to meet the needs of people with developmental disabilities. The programs are designed to promote physical health, gain confidence, enhance team building skills and to have fun! We offer a non-competitive environment and programs are designed for ages 14 through adulthood. Click here to download department flyer.
Have a question about an Adaptive Recreation program? Please contact Emily at eorr@reachforresources.org or 952-393-5880.
Our number one priority is to keep everyone safe while having fun at our programs. Click here to read Reach's Covid program guidelines.
Sign up for our monthly email list to stay up-to-date about programs and news happening at Reach.
To learn about the latest programs we are offering each season, sign up for our quarterly Reach Reader.
Watch the video to learn more about our Adaptive Recreation programs
Consent & Boundaries Classes
Adaptive Sports & Fitness Classes
We offer different activities each season for children, teens and adults including:
Bowling
Basketball
Kickball
Softball
Yoga
Zumba
Community-Based Social Activities
We offer a variety of activities for people of all ages.
On the Town Activity Groups – This program is for adults who are independent and can access community venues with minimal supervision. Activities may include dinner, movies, karaoke, bowling, swimming, athletic events and more.
Social Clubs – Groups are held weekly at local community centers for teens and adults. Includes games, movies, shopping, bingo and more.
Dances – Join your friends and groove to the latest hits on Friday nights. Locations and exact dates vary.
Social Seekers – This is a social group for teens and young adults with high-functioning autism.
Monthly Daytime Offering – If you are free during the day on weekdays, you'll be able to join us each month for a special program (games, a picnic, a meal out, etc.).
Arts, Crafts & Seasonal Fun
Art Abilities  (Ages 12+)
– Art Abilities is a series of workshops that offers the opportunity to explore a variety of art media. The workshops will invite the participating artists to explore their creative interests beginning with warm-up exercises at each session, painting, drawing, journaling, creating masks, and other abstract creations to help the participants learn a different method of communication. This program is made possible by the voters of Minnesota through a grant from the Metropolitan Regional Arts Council, thanks to a legislative appropriation from the arts and cultural heritage fund.
Seasonal Arts & Crafts – Each quarter we plan and facilitate crafts and other activities associated with the season.  We do everything from tie dye, to mother's day gifts, to gingerbread houses! Check out our quarterly newsletter to see our current offerings.
Respite (Weekend Ventures)
​What is Weekend Ventures?
Weekend Ventures is a weekend (or overnight) respite program that takes place 6 times each year. Depending on the weekend, we stay overnight 1 or 2 nights at a hotel or a camp. Each weekend has one main activity that the group does together. See our Respite/Weekend Ventures website page for more information.
Other 
Adaptive Recreation 
Information
Softball season creates some great memories, as highlighted in this video produced by JZ Productions!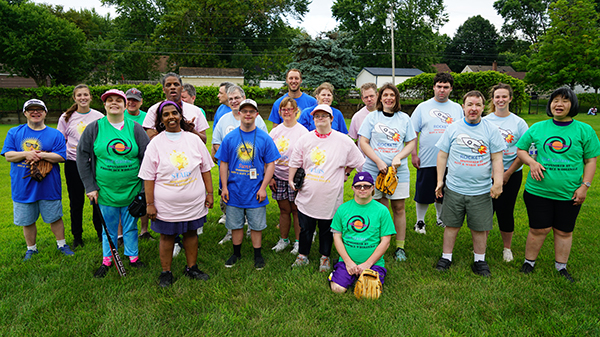 Want more info on recreation programs or have questions? If so, contact our Director of Adaptive Recreation & Inclusion, Emily Orr, at 952-393-5880 or eorr@reachforresources.org.
Accessibility
Reach strives to make it possible for individuals of all income levels to access services. Therefore, if program costs are a barrier to participation, Reach may be able to subsidize the cost based on your individual situation. Please call 952-393-5880 for more information.
Have a great idea for a new Adaptive Rec program?

Let us know by completing the form below.