Cooking Corner: Robert's Puerto Rican Lasagna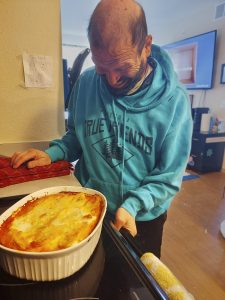 Robert is someone who loves to cook. He's from Puerto Rico and enjoys making recipes from the island. Recently, he made a Puerto Rican lasagna with staff.
He made some changes to the recipe based on his preferences, and gave the dish two thumbs up!
Robert's Puerto Rican Lasagna
Ingredients:
1 lb lean (at least 80%) ground beef
1 green bell pepper, chopped
1 onion, chopped
2 cloves garlic, finely chopped
½ cup chopped fresh cilantro
2 teaspoon dried oregano leaves
2 teaspoons Adobo seasoning
2 tablespoons apple cider vinegar
2 tablespoons vegetable oil
½ cup raisins
1 can (15 oz) tomato sauce
¼ cup vegetable oil
4 ripe plantains, cut horizontally into long slices
2 cups shredded Mexican cheese blend (8 oz)
2 eggs, beaten
Instructions:
1 – Heat oven to 350°F. Line plate with kitchen towel. Spray bottom and sides of 8-inch square (2-quart) glass baking dish with cooking spray.
2 – In large bowl, mix beef, bell pepper, onion, garlic, cilantro, oregano, Adobo seasoning and vinegar until well combined.
3 – In 12-inch skillet, heat 2 tablespoons oil over medium-high heat. Add beef mixture; cook until browned. Stir in raisins and tomato sauce. Reduce heat to low; simmer 5 minutes.
4 – In 10-inch skillet, heat 1/4 cup oil over medium-high heat. When hot, add several plantain slices; cook until golden brown on each side. Transfer plantains to towel-lined plate to soak up excess oil. Do this until all slices are browned. Cool slightly. Press plantains down slightly to flatten slices.
5 – To assemble lasagna, arrange layer of plantains in baking dish. Top with half of the beef mixture. Top with half of the cheese. Continue layering, starting with plantains and ending with cheese. Pour beaten eggs evenly over top.
6 – Bake about 30 minutes or until cheese is bubbly. Cool about 10 minutes before cutting and serving.