January 2017
This month, we interviewed our volunteer DJ, Leo Bordeaux! Leo helps Reach by managing the music at many of the Reach dances. Here Leo talks about volunteering his time with Reach.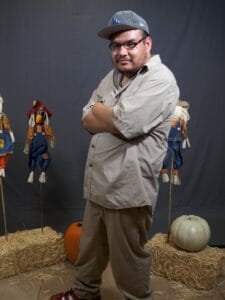 How long have you been DJing?
Since I was 18 years old, and I'm 28 so for about 10 years.
What made you want to get into DJing?
I really like music and I really like making people have a good time with music.
How long have you been going to Reach events?
2 to 3 years – one of my friends told me about them and said that I should come and dance. I was nervous and started going with my friend and then started going by myself. I first mingled with people and then started dancing.
Why did you want to be a volunteer for Reach?
Because I liked being around the people at the dances and playing music and having a good time.
How many events have you DJed for Reach?
Around 15 or 20.
What do you enjoy most about DJing for Reach events?
Dancing along with the people because most DJs I know don't do that.
What is your favorite Reach event?
Fall Formal.
Where else do you DJ?
Group home company called Pathways to Community.
What are some songs that are crowd favorites?
Cupid Shuffle, Cha-Cha Slide, Macarena, and Watch Me (Whip/Nae Nae)
Interested in volunteering with Reach? Learn more about our volunteer opportunities on our volunteer page HERE.