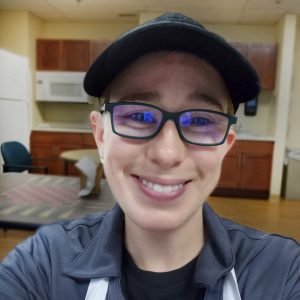 Meet Jenna! With the guidance of Carolyn, one of our Employment Specialists, Jenna found a job that she loves. Jenna interviewed at several companies but felt they weren't the right fit. Then a position opened at Covenant Living for kitchen staff. From previous jobs, Jenna had some great experience in that field and applied. After an interview, Jenna was offered the job! With minimal guidance from Carolyn, Jenna completed all of the pre-employment tasks like paperwork and background check.
Jenna is enjoying her job and looks forward to going to work each day. She has made friends with many of the residents that live at Covenant Living. Some of Jenna's work tasks include working with the dishwasher, putting dishes away and filling water pitchers.
Awesome job Jenna! Keep up the great work.