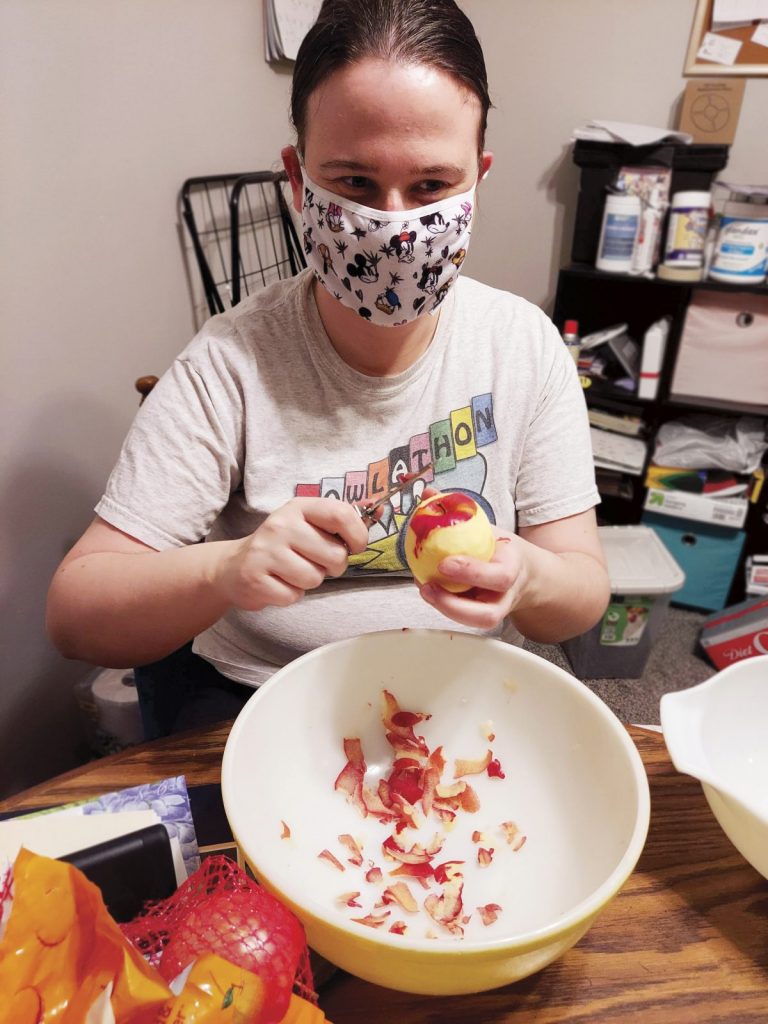 Kristen has been working towards expanding her cooking skills and following healthy food guidelines with the Community Living Reach staff. In an effort to utilize foods already purchased, Kristen and her staff Hailey, prepared homemade cinnamon applesauce. The applesauce brought together cooking and clean eating practices for Kristen. As a result of preparing the homemade applesauce, Kristen was in control of what went into her food and she could limit the added sugar.
Kristen has always put forth effort when it comes to cooking and her hard work was exhibited here. Hailey demonstrated how to peel the apples in long smooth strokes and gliding motions with Kristen's vegetable peeler. Kristen told Hailey peeling the apples felt sort of like "you're skating." It is helpful when supporting people to find an example of what skill you are trying to teach. This idea was put forward in the next recipe step; chopping the peeled apples. To show Kristen how to work with the knife, Hailey used the examples of brushing your teeth and sawing down a tree; a steady back-and-forth motion.
After chopping the apples, Kristen independently measured out the other ingredients in the recipe (water, sugar and cinnamon) and added them to the bowl. After stirring in the ingredients to make sure all the apples slices were coated, Kristen covered the microwave safe bowl and cooked the mixture until the apples were soft. Without Hailey's instructions, Kristen did a great job remembering to use a hot pad when removing the bowl from the microwave. Lastly, Kristen mashed the mixture to her desired consistency and then enjoyed her homemade applesauce!
Kristen's Healthy Applesauce Recipe


1) Peel apples (recommend at least 3 apples)
2) Slice apples and add them to a large mixing bowl
3) To the bowl, add 3 tbsp water, 2 tbsp cinnamon and 3 tbsp – 1/4 C sugar (to taste)
4) Mix until all apple slices are evenly coated
5) Microwave covered for 15-20 minutes or until soft
6) Mash with a potato masher or use a hand mixer to desired consistency
7) Enjoy!