"More freedom!" is how Jamie Hohertz describes his new living situation of being on his own for the first time ever. For 18 years, Jamie lived in an adult foster care setting, enjoying the relationship he had with his care provider, Jim, whom Jamie says was like a brother to him. However, a 2018 change in Jim's life meant the end of their time together. Jamie left his Minneapolis community and moved in with his sister in a city on the eastern edge of Minnesota. During that year and a half, Jamie missed his previous lifestyle, including his job. He explains that transportation to and from Minneapolis would have canceled out any potential earnings. This led Jamie and his sister to begin discussing having him find a place of his own.
Since he had always been fairly self-sufficient with cooking and cleaning, Jamie believed he could do well living by himself. What did end up being a challenge, though, was trying to secure housing without any current income. However, to be able begin a job, Jamie would need to live in close proximity to the work location. This cycle proved problematic.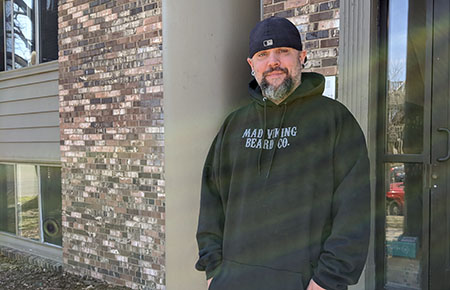 Fortunately, Jamie was granted a Section 8 housing voucher, which opened some doors for him. In late 2019, he found a home and prepared for solo living with help from his case manager and a Reach Semi-Independent Living Services staff member. He also used a Reach employment specialist, Marcus, to regain his employment. Originally beginning in 2005, Jamie could be found during pro sporting events and concerts doing vendor prep at the Metrodome and then Target Field, getting the beverages and snacks ready for the sellers to hand out in the stands. It's work that Jamie not only enjoys, but takes seriously. When asked if he sneaks any of the goodies, he explains that he would never jeopardize his job security for himself or someone else. If his peers request a free sample, Jamie is quick to jokingly explain that he can, as long as they pay him his daily wage "for every day for the rest of my life," as compensation for the possibility of losing that revenue source.
With his housing and employment so well coordinated now, Jamie appreciates the support Reach has given him. He explains that although Erin, his current community living specialist, helps him out in a variety of ways, "She won't do things for you." That's all right, because Jamie is becoming increasingly confident in doing things for himself.