"That'd be a great idea!" This was Leah Wallin's enthusiastic response when asked what she would say to someone who is considering Reach's services. Leah is very familiar with Reach; after all, she has been with us since 2001.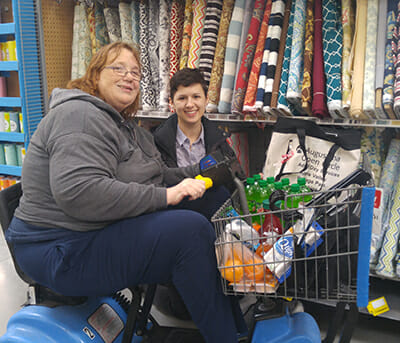 Leah is currently matched up with Community Living Specialist Nicole Hans. Leah shared, "I look forward to Friday because I get to see Nicole." With gratitude in her eyes, Leah looked at Nicole when stating how important it is for someone working with her who understands her. The two of them are generous with their compliments about each other, with Nicole stressing Leah's kindness. Together they have made much progress in the year they have worked as a team. Most notably, Leah recently moved into an apartment, where she is able to live alone. She was on the hunt for a universal remote control for her new TV on a recent Friday with Nicole. While they used to meet as often as three times each week, they are now usually able to get by with once. "And we text," adds Nicole with a smirk.
Grocery shopping is a regular activity for Leah and Nicole. This also includes planning and budgeting. Nicole explained that when they first met, Leah had a limited concept of pricing. These days, she could probably be a successful contestant on The Price is Right. That might be just one of the shows that Leah watches on her new TV, along with her favorites, Chicago Fire and Untold Stories of the ER. However, she would much rather watch a screen of her adoring niece and nephew (who live in Colorado) when she talks with them through Facetime.
Leah keeps busy in other ways too. She is involved in Augustana Open Circle day program, having been referred to this group by Reach employee Larissa Beck. Leah loves to bake and can mix up some delicious brownies—something she might even share with long-time boyfriend Greg. Also, she and Nicole do exercises together, and Leah particularly enjoys art projects—from cross-stitch to coloring, and others in between. Reach's Art Abilities classes are a favorite for Leah. One final piece of advice she would give to others getting involved with Reach is to "Make sure you try all the activities…They're awesome!"