20+ Year Journey With Reach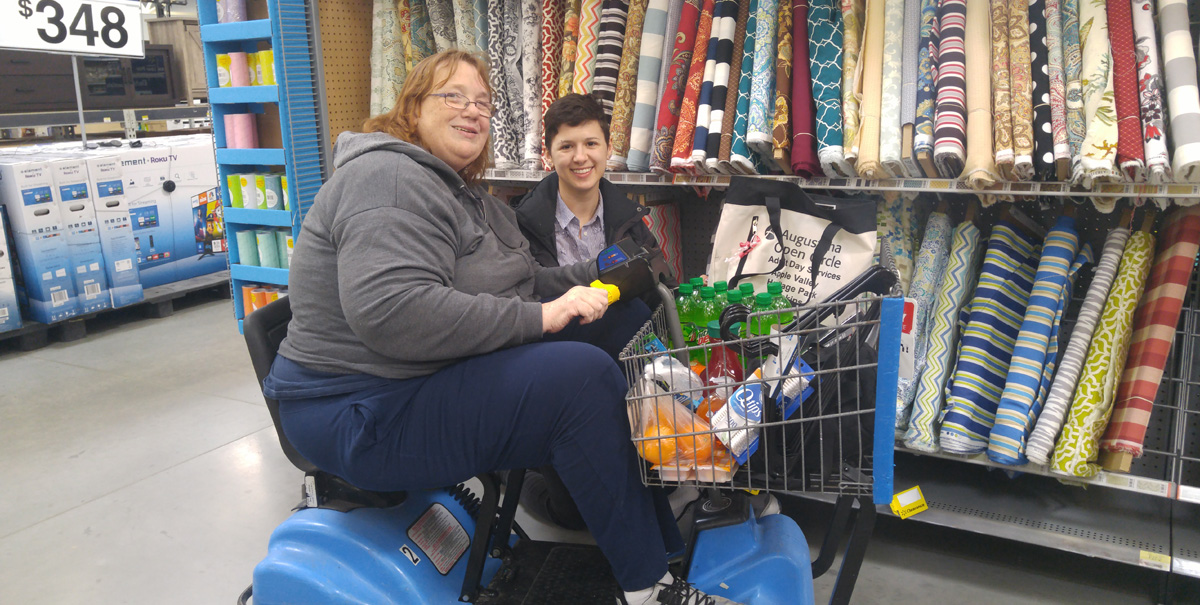 Since 1985, Reach for Resources has been providing a variety of services and supports to people of all abilities throughout Minnesota. For over 20 of those years, Reach has had the opportunity to support an individual who has been with us the longest, Leah Wallin. Throughout all of those years, we've watched Leah grow, gain confidence and thrive as we've supported her through a variety of life events. Recently, we had the opportunity to sit down with Leah and learn all about her 20+ year journey with Reach.
Over 20 years ago, Leah's social worker at the time recommended Reach to her and her parents. As Leah says, "I was living at home at the time, and my parents were like, yeah, we're ready for her to move out. And I was ready too." With the help of Reach's In-Home Services, Leah started looking for an apartment that would fit within her budget and be somewhat close to her job as a daycare worker. After a couple of months, Leah found her very first apartment. She says, "It was very hard to leave home cause I've been there since I was a little kid but when I finally did move out, it was awesome."
After Leah moved into her apartment, her in-home support specialist from Reach would stop by weekly to help her run errands, assist with Metro Mobility & Transit scheduling, go grocery shopping and assist with any apartment needs. Over the next few years, Leah continued to gain confidence living on her own, enjoyed working at local daycares, started participating in some of Reach's Adaptive Rec programs and met her boyfriend of over 19 years.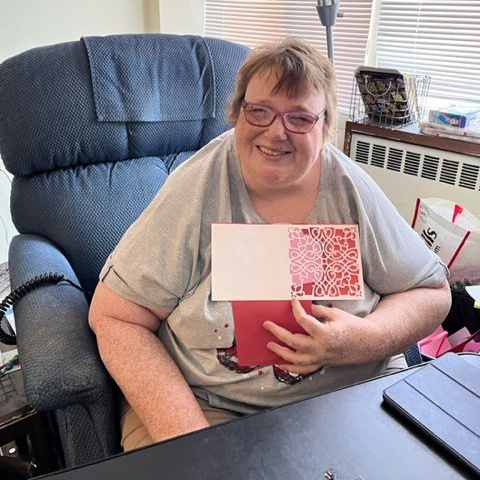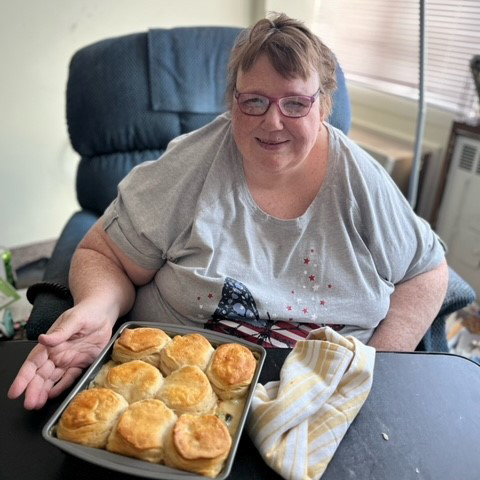 Then in 2008, Leah suffered an injury that left her unable to work. Working with Reach, Leah was able to successfully apply and receive Social Security Benefits. With this new change in benefits, Leah needed to find a new apartment that fit within the parameters of her Social Security. Over the next few years, she lived in a variety of different apartments throughout the metro area. Some apartments and locations suited her needs better than others.
Reach was with her every step and move along the way to help her find a place she would be comfortable in. As Leah was looking for housing, both her parents died within a year of each other. It was a tough few years for Leah but eventually she was able to find the perfect apartment, great new guardianship, and an awesome day program she's been attending twice a week for over the past 5 years.
When asked how Reach has impacted her life for over 20 years, Leah said, "Reach has impacted my life a lot because when I first started with Reach, I was really scared about moving out of my mom and dad's house cause I've never been on my own. But with Reach, I totally wanted to live on my own and then I did. It was awesome."
Leah is thriving, confident and has a positive, joyful energy about her. She loves to spoil her niece and nephew as well as participate in a variety of Reach's Adaptive Rec programs. Currently, she meets with Reach's In-Home Support Specialist, Leah, once a week to run errands, play games, volunteer and have fun. They are also working on two goals: organization and healthy eating. Leah says, "We go grocery shopping once a month and then we cook a healthy meal the following week. I lost fourteen pounds already!" When asked what her ultimate goal is, she said, "My ultimate goal is to fly out to see my niece and nephew and my sister and brother-in-law in Colorado. Hopefully in the next two years, I'll be able to fly out there when my niece becomes a teenager." We have no doubt in our mind that Leah will accomplish this goal!