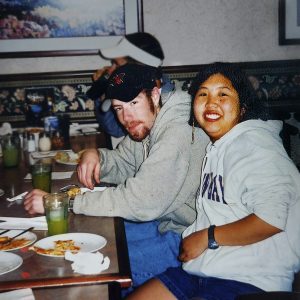 James and Calli's love story reads like a romantic movie script. College girl and boy fall in love. After dating a few months, boy breaks up with girl because he's not ready for commitment. Boy regrets the breakup, realizing he just let the love of his life slip through his fingers. Fast forward 15 years. Girl is looking at a new apartment and in the lobby is the boy from 15 years ago. They start talking online a few months later. Jump ahead four years, they are very much in love, living together and just had a commitment ceremony.
Let's start from the beginning. Calli and James first met at college where they were attending classes at Vector. They dated for about a year. James says, "Unfortunately, at the time, I wasn't really ready to settle down yet." Calli and James mutually agreed it wasn't the right time for their relationship and amicably broke up. After they broke up, James says he thought about it and realized "She was a great girl. Why did I let this one go? If I have the chance to be with Calli again, I'm taking it, no matter how long it takes." It took 15 years.
In 2017, Calli was touring apartment buildings. She was standing in the lobby of a building waiting for the tour to start when she recognized one of the individuals in the lobby. "Hey, there's James!" Fast forward a couple of months and Calli moves into the same apartment building as James. One night, a bunch of people from the apartment complex went to a Timberwolves game. During the game, one of Calli's friends needed assistance. Cue James! James came over to try and help with the situation. Calli said that she liked the way he was so kind and helpful to her friend. A couple of days later, Calli messaged James on Facebook, "Hi. What's up?" The rest is history!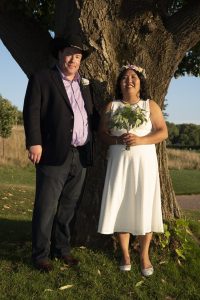 After about a year and a half of dating, James approached Calli's father to ask if he could have his permission and blessing to propose to Calli, when the time was right. Calli's father said he would be happy to give his blessing. Fast forward a couple of months. James has purchased a ring and is waiting for the perfect moment to pop the question. James said "Heck, I would wait till I die to marry her. I don't care how long it takes. I just want to be with Calli the rest of my life. There's no one else in this entire world I would rather be with. There really isn't." He didn't have to wait long. One day, Calli and James were in the kitchen of their apartment. Knowing Calli doesn't like big, grand surprises, James says he saw the perfect opportunity. He got down on one knee and proposed. Calli says, "YES!"
After a couple of months of planning, James and Calli had their dream life commitment ceremony on August 29th in front of a few family and friends. It was an outdoor ceremony presided over by Pastor Kathy at the Brookview Golf Course, which James is a member of. The ceremony, was followed by a small reception with lots of fun h'orderves and yummy wedding cake. For their honeymoon, they spend a few days enjoying Wisconsin together.
Congratulations Calli and James. Everyone at Reach is wishing you a lifetime of happiness together!