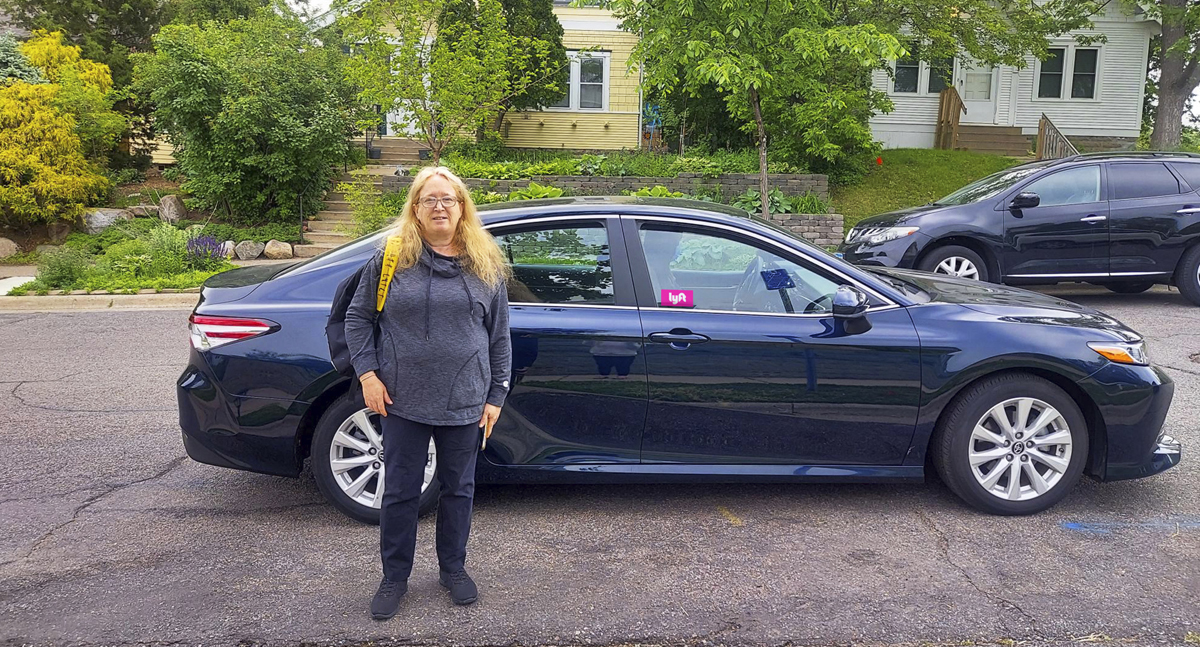 Finding reliable, flexible transportation to and from work can be tough especially for people with disabilities. To help solve this problem, Reach launched a Lyft test pilot program at the beginning of 2022. Lyft is an app-based ride-sharing service that allows people to schedule rides in advance or on the spot. To tryout this new program, Reach needed the perfect tester. Naomi, an Employment Specialist at Reach, had just the person! Sonya.
Sonya loves her job at the Mall of America but was looking for safer, more dependable transportation options. Working together, Sonya and Naomi setup a Lyft account that would use her waivered services funds only for transportation to and from work. For the first month, Sonya's only goal was to test this program to see if Lyft was a viable option and if there were any limitations with the service. In the beginning there were a lot of trial and errors but after the first month Sonya says, "Lyft turned out to be a very good thing! It gave me more independence and at the same time more accountability and responsibility for my rides."
Since the test run went so well, Sonya has continued to utilize Lyft and now has it as one of her set services for the next year within her waiver plan. Sonya is in charge of scheduling all of her work rides and to ensure she arrives on time, Sonya schedules all her rides an hour and 15 minutes ahead of her shift. One time, Sonya's work schedule switched last minute, and she didn't have a ride scheduled. No worries! With Lyft, Sonya was able to schedule a ride for immediate pick-up and make it to work. Sonya says, "It frees up family members that use to give me rides to work. I'm able to do it myself and feel comfortable making my rides."
All of Sonya's work rides are paid utilizing her waiver funds. The cost of each ride is based on the average distance to and from work. If she goes over her ride allowance, she pays the difference out-of-pocket. The ride allowance along with how many rides she plans to take for the year are added to a Lyft pass, a digital version of a punch card.
One of Sonya's favorite things about using Lyft is the safety tracking feature that texts her emergency contact, the route she is currently taking. She also loves, "Meeting people. There have been some really nice, down-to-earth drivers. It's always been a fun experience."
Since using Lyft, Sonya has never had a driver be late or cancel a ride. Because of her success with Lyft, Sonya is looking into the option of using it for personal rides like to the grocery store, appointments or school. When it comes to everyday transportation, Sonya says, "Lyft is a very good option vs the others [Metro Mobility, Public Transportation]. It may cost less for the others but the reliability and safety features with Lyft cover the extra cost."
Since Sonya has had great success using Lyft, Reach has officially launched the Lyft program with others we support through our services. All individuals that utilize our Employment Supports and receive waivered services, can get authorized for transportation services with Lyft. With reliable and flexible work transportation being a big barrier for people with disabilities, Reach is hoping to rewrite that narrative using Lyft. To learn more about this program, please contact Larissa Beck, Director of Community Living at [email protected].