Each year, Reach has the opportunity to nominate a staff member for an ARRM Cares Award. This award was established to recognize professionals from ARRM members who provide direct care and demonstrate a commitment to quality services. Reach's 2019 nominee is Marcus Skallman, who has been an Employment Specialist with us for four years.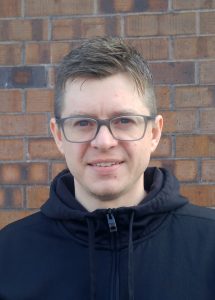 When working with others, Marcus may have an idea on what may or may not work well, based on his own experiences, but the opinion and aspiration of the individual he is supporting is always his first priority. Marcus lifts others up with humility, encouragement, and dedication, allowing their accountability and pride to shine through.
Since working with Victor, who has a vision of becoming a restaurant chef someday, Marcus has not only helped him secure a job in a hotel kitchen, but has also made certain that two levels of supervisors are aware of Victor's ambition. Using active listening skills to advocate on Victor's behalf, Marcus has initiated conversations with these leaders. As a result, Victor has advanced in the company to now assist with meal prep and is on his way to fulfilling his dream.
Victor is just one example of someone who is flourishing with Marcus's support, and Reach is proud to honor Marcus in this way.