As 2021, comes to a close, we wanted to take time to thank you for your unwavering support, compassion and generosity this year. We are humbled by your kindness and thanks to your continued support, we were able to provide individualized services, support, physical and mental well-being assistance and to over 1,500 individuals. Please check out the stories below of some of the lives impacted by your generosity.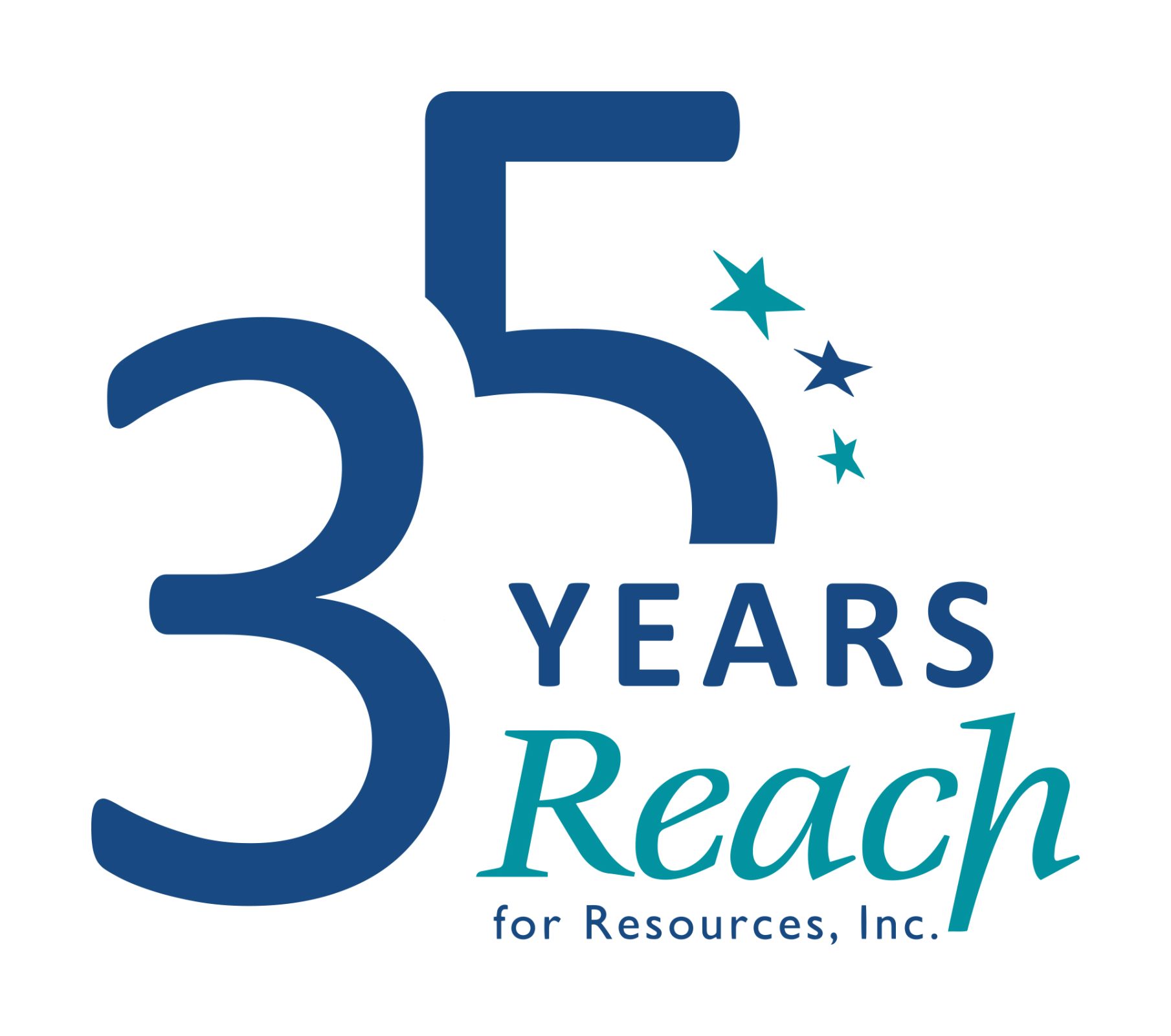 In January of 2021, Andrew started receiving Employment Development Services from Reach for Resources. Prior to 2021, Andrew worked nearly two years as a dishwasher at Hy-Vee but resigned in September of 2020. He no longer felt fulfilled in the dishwasher role and preferred a job that wasn't so monotonous. Before Hy-Vee, Andrew worked in a group setting as a sorter for a local wholesale produce warehouse from 2014-2018. Due to the repetitive nature of that job, Andrew also feigned interest. It was clear Andrew sought a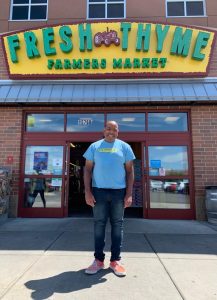 fresh start and needed assistance finding more meaningful employment in a more competitive, integrated setting.
The first thing Andrew and staff worked on upon joining the Employment Development Services at Reach was creating a more attractive and comprehensive resume. Next, Andrew completed an employment development assessment, which gave staff a good idea of the types of industries, companies and positions that would be a good fit. After speaking with Andrew after the assessment, he expressed the most interest in retail, warehousing/supply chain, entertainment, and recreation for employment based opportunities.
Weekly, Andrew and staff began to meet virtually via Zoom to go over some of the potential employment opportunities in his areas of interest that had been identified via Internet job boards and employment websites. Andrew would provide feedback to staff on which open positions he'd like to apply to and which ones he wasn't interested in. Staff then assisted with completing and submitting these job applications.
In February, Andrew had an opportunity to interview for a Fulfillment Associate position at Lowe's. Staff spent time with Andrew doing mock interviews, reading through the job description, and discussing positive interviewing strategies to ensure he was prepared. The interview ended up going well, but Andrew was not offered the position. During that time, Andrew also interviewed with Goodwill for a Donation Attendant position, but that opportunity wasn't the right fit for Andrew either. Throughout both interviews, staff was on hand to help clarify any difficult questions. Since staff attended the interviews, they were able to provide constructive criticism regarding areas that Andrew could improve. Both interviews were great learning experiences for Andrew.
In March, Andrew was contacted by a hiring manager at Fresh Thyme Market about interviewing for a Produce Clerk position. After receiving an interview invitation, Andrew called staff to ask for assistance with setting up the meeting. Andrew and staff then made a three-way call to the hiring manager and scheduled the interview for later that week.
At the interview, staff helped rephrase any questions that Andrew was having difficulty answering and prompted him to talk about his previous work experience and how that related to the Produce Clerk position at Fresh Thyme. During the interview, staff explained to the hiring manager they would be able to provide Employment Support Services if Andrew were to be hired, and could assist with completing any on-boarding paperwork. After the interview, staff was driving Andrew back to his residence when he received a call from the hiring manager who offered him the position.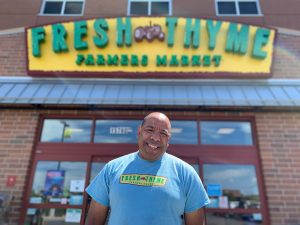 The following week, staff assisted Andrew with completing all of his on-boarding paperwork including direct deposit and training videos. Just like with any new job, Andrew was quite nervous at first and a little intimidated by all of the different job responsibilities that were required of him. For the first couple weeks, staff supported Andrew by staying with him his entire shift and helping him learn all the tasks associated with being a Produce Clerk at Fresh Thyme. Three of the biggest challenges for Andrew were: identifying which items needed to be stocked, locating specific produce in the cooler area, and responding to customers' questions. Staff always let Andrew complete these tasks independently, and if it was apparent that he was having difficulty completing them, only then would staff intervene to assist him on how to accomplish the task more efficiently.
Once Andrew began demonstrating independence completing his work tasks, staff began to slowly fade out of some of the on-site support. Staff was able to help Andrew identify co-workers who would be able to assist him with any questions if Reach staff was not present. He has been employed at Fresh Thyme for a little more than two months and works entire shifts without Reach staff. At $14.00/hour, Andrew is earning the highest wage that he's ever received in his working career. This is evidence that people Reach for Resources supports are capable of thriving in a competitive, integrated employment setting.
Article by: Marcus Skallman, Employment Specialist at Reach
Celebrating 35 years of Reach for Resources! Since 1986, Reach has been supporting individuals with disabilities & mental illness reach their full potential. Throughout our 35 years, we've been able to impact over 40,000 individuals across the Twin Cities area.
Healthy Cooking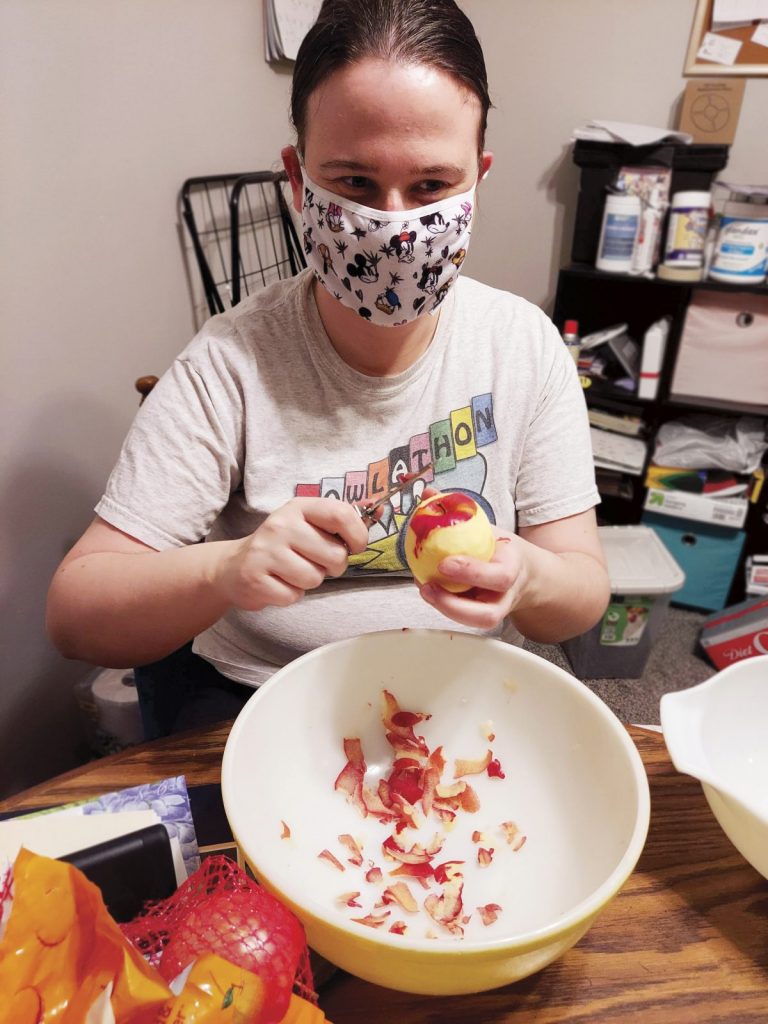 Kristen has been working towards expanding her cooking skills and following healthy food guidelines with the Community Living Reach staff. In an effort to utilize foods already purchased, Kristen and her staff Hailey, prepared homemade cinnamon applesauce. The applesauce brought together cooking and clean eating practices for Kristen. As a result of preparing the homemade applesauce, Kristen was in control of what went into her food and she could limit the added sugar.
Kristen has always put forth effort when it comes to cooking and her hard work was exhibited here. Hailey demonstrated how to peel the apples in long smooth strokes and gliding motions with Kristen's vegetable peeler. Kristen told Hailey peeling the apples felt sort of like "you're skating." It is helpful when supporting people to find an example of what skill you are trying to teach. This idea was put forward in the next recipe step; chopping the peeled apples. To show Kristen how to work with the knife, Hailey used the examples of brushing your teeth and sawing down a tree; a steady back-and-forth motion.
After chopping the apples, Kristen independently measured out the other ingredients in the recipe (water, sugar and cinnamon) and added them to the bowl. After stirring in the ingredients to make sure all the apples slices were coated, Kristen covered the microwave safe bowl and cooked the mixture until the apples were soft. Without Hailey's instructions, Kristen did a great job remembering to use a hot pad when removing the bowl from the microwave. Lastly, Kristen mashed the mixture to her desired consistency and then enjoyed her homemade applesauce!
Kristen's Healthy Applesauce Recipe


1) Peel apples (recommend at least 3 apples)
2) Slice apples and add them to a large mixing bowl
3) To the bowl, add 3 tbsp water, 2 tbsp cinnamon and 3 tbsp – 1/4 C sugar (to taste)
4) Mix until all apple slices are evenly coated
5) Microwave covered for 15-20 minutes or until soft
6) Mash with a potato masher or use a hand mixer to desired consistency
7) Enjoy!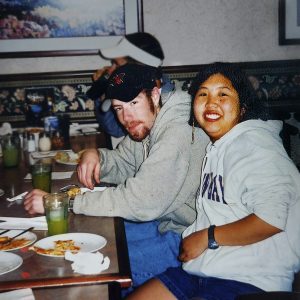 James and Calli's love story reads like a romantic movie script. College girl and boy fall in love. After dating a few months, boy breaks up with girl because he's not ready for commitment. Boy regrets the breakup, realizing he just let the love of his life slip through his fingers. Fast forward 15 years. Girl is looking at a new apartment and in the lobby is the boy from 15 years ago. They start talking online a few months later. Jump ahead four years, they are very much in love, living together and just had a commitment ceremony.
Let's start from the beginning. Calli and James first met at college where they were attending classes at Vector. They dated for about a year. James says, "Unfortunately, at the time, I wasn't really ready to settle down yet." Calli and James mutually agreed it wasn't the right time for their relationship and amicably broke up. After they broke up, James says he thought about it and realized "She was a great girl. Why did I let this one go? If I have the chance to be with Calli again, I'm taking it, no matter how long it takes." It took 15 years.
In 2017, Calli was touring apartment buildings. She was standing in the lobby of a building waiting for the tour to start when she recognized one of the individuals in the lobby. "Hey, there's James!" Fast forward a couple of months and Calli moves into the same apartment building as James. One night, a bunch of people from the apartment complex went to a Timberwolves game. During the game, one of Calli's friends needed assistance. Cue James! James came over to try and help with the situation. Calli said that she liked the way he was so kind and helpful to her friend. A couple of days later, Calli messaged James on Facebook, "Hi. What's up?" The rest is history!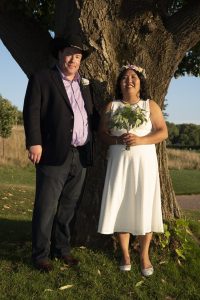 After about a year and a half of dating, James approached Calli's father to ask if he could have his permission and blessing to propose to Calli, when the time was right. Calli's father said he would be happy to give his blessing. Fast forward a couple of months. James has purchased a ring and is waiting for the perfect moment to pop the question. James said "Heck, I would wait till I die to marry her. I don't care how long it takes. I just want to be with Calli the rest of my life. There's no one else in this entire world I would rather be with. There really isn't." He didn't have to wait long. One day, Calli and James were in the kitchen of their apartment. Knowing Calli doesn't like big, grand surprises, James says he saw the perfect opportunity. He got down on one knee and proposed. Calli says, "YES!"
After a couple of months of planning, James and Calli had their dream life commitment ceremony on August 29th in front of a few family and friends. It was an outdoor ceremony presided over by Pastor Kathy at the Brookview Golf Course, which James is a member of. The ceremony, was followed by a small reception with lots of fun h'orderves and yummy wedding cake. For their honeymoon, they spend a few days enjoying Wisconsin together.
Congratulations Calli and James. Everyone at Reach is wishing you a lifetime of happiness together!