Reach for Resources is looking for sponsors for adaptive sport programs and special events. Sponsorship in any amount is greatly appreciated. If you, your company or someone you know would like to sponsor a program or special event, please contact our Development Officer Jason Skoog at 952-564-8680 or email Jason. Quick link for online sports sponsorship payment.
Sponsorship levels vary each event. Click the links below to view the sponsorship levels for each event.
Sports Sponsorship
Reach offers a variety of adaptive recreation programs that are specifically adapted to meet the needs of people with developmental disabilities. Our programs are designed to promote physical health, build social skills, enhance community integration, and provide breaks for caregivers. Some of these programs are perfectly suited to be sponsored. Each program has different needs and can provide the sponsor different benefits.
Bowling
Currently our bowling program is on hiatus due to the global pandemic. We are hopeful to start offering bowling again in late Summer/early Fall 2021.
To see our normal bowling sponsorship, you can view the sponsorship details here.
Fishing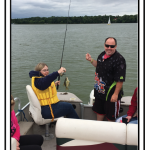 Each summer, individuals we support are partnered up with fishing experts from another nonprofit to share their love of fishing on Medicine Lake in Plymouth.
Check out our flyer for additional details and sponsorship levels.
 Softball
We are excited to offer our adaptive softball program again this summer after losing the season in 2020. We will be returning to Harley Hopkins Field in Hopkins. This is a non-competitive league allowing adults and teens to focus on building teamwork, improving skills, and having fun. Family and friends are encouraged to come and cheer on their loved ones as they participate in the great American pastime.
Check out our flyer for additional details and sponsorship levels.
Basketball
We are looking forward to resuming our basketball program in the winter of 2022. The Reach basketball league meets at the Brooklyn Center Youth Rec Center in Brooklyn Center. Participants get to choose a team name and help in the design of their basketball jersey. They often proudly wear their basketball jerseys all year long.
Check out our flyer for additional details and sponsorship levels.

Sponsor/Pay Online Now
Sponsorship is a couple of clicks away! Make a difference and give individuals the opportunity to share their love of sports!
You can sponsor any or all of the leagues by visiting our special sponsorship website. 
Direct Sponsorship Contact/Questions
Jason Skoog – Reach for Resources Development Officer – (952) 564-8680 or email Jason.