In January of 2021, Andrew started receiving Employment Development Services from Reach for Resources. Prior to 2021, Andrew worked nearly two years as a dishwasher at Hy-Vee but resigned in September of 2020. He no longer felt fulfilled in the dishwasher role and preferred a job that wasn't so monotonous. Before Hy-Vee, Andrew worked in a group setting as a sorter for a local wholesale produce warehouse from 2014-2018. Due to the repetitive nature of that job, Andrew also feigned interest. It was clear Andrew sought a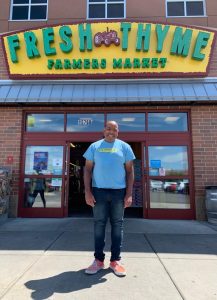 fresh start and needed assistance finding more meaningful employment in a more competitive, integrated setting.
The first thing Andrew and staff worked on upon joining the Employment Development Services at Reach was creating a more attractive and comprehensive resume. Next, Andrew completed an employment development assessment, which gave staff a good idea of the types of industries, companies and positions that would be a good fit. After speaking with Andrew after the assessment, he expressed the most interest in retail, warehousing/supply chain, entertainment, and recreation for employment based opportunities.
Weekly, Andrew and staff began to meet virtually via Zoom to go over some of the potential employment opportunities in his areas of interest that had been identified via Internet job boards and employment websites. Andrew would provide feedback to staff on which open positions he'd like to apply to and which ones he wasn't interested in. Staff then assisted with completing and submitting these job applications.
In February, Andrew had an opportunity to interview for a Fulfillment Associate position at Lowe's. Staff spent time with Andrew doing mock interviews, reading through the job description, and discussing positive interviewing strategies to ensure he was prepared. The interview ended up going well, but Andrew was not offered the position. During that time, Andrew also interviewed with Goodwill for a Donation Attendant position, but that opportunity wasn't the right fit for Andrew either. Throughout both interviews, staff was on hand to help clarify any difficult questions. Since staff attended the interviews, they were able to provide constructive criticism regarding areas that Andrew could improve. Both interviews were great learning experiences for Andrew.
In March, Andrew was contacted by a hiring manager at Fresh Thyme Market about interviewing for a Produce Clerk position. After receiving an interview invitation, Andrew called staff to ask for assistance with setting up the meeting. Andrew and staff then made a three-way call to the hiring manager and scheduled the interview for later that week.
At the interview, staff helped rephrase any questions that Andrew was having difficulty answering and prompted him to talk about his previous work experience and how that related to the Produce Clerk position at Fresh Thyme. During the interview, staff explained to the hiring manager they would be able to provide Employment Support Services if Andrew were to be hired, and could assist with completing any on-boarding paperwork. After the interview, staff was driving Andrew back to his residence when he received a call from the hiring manager who offered him the position.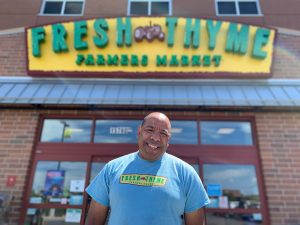 The following week, staff assisted Andrew with completing all of his on-boarding paperwork including direct deposit and training videos. Just like with any new job, Andrew was quite nervous at first and a little intimidated by all of the different job responsibilities that were required of him. For the first couple weeks, staff supported Andrew by staying with him his entire shift and helping him learn all the tasks associated with being a Produce Clerk at Fresh Thyme. Three of the biggest challenges for Andrew were: identifying which items needed to be stocked, locating specific produce in the cooler area, and responding to customers' questions. Staff always let Andrew complete these tasks independently, and if it was apparent that he was having difficulty completing them, only then would staff intervene to assist him on how to accomplish the task more efficiently.
Once Andrew began demonstrating independence completing his work tasks, staff began to slowly fade out of some of the on-site support. Staff was able to help Andrew identify co-workers who would be able to assist him with any questions if Reach staff was not present. He has been employed at Fresh Thyme for a little more than two months and works entire shifts without Reach staff. At $14.00/hour, Andrew is earning the highest wage that he's ever received in his working career. This is evidence that people Reach for Resources supports are capable of thriving in a competitive, integrated employment setting.
Article by: Marcus Skallman, Employment Specialist at Reach