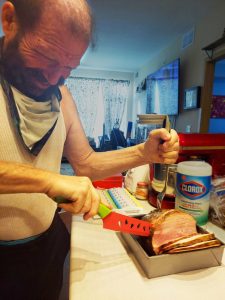 Robert loves to cook with staff and try new recipes. To start off the holiday season, Robert requested to bake a brown sugar glazed ham. Fresh out of the oven, Robert is neatly slicing his baked ham with brown sugar glaze. Robert reports that it was a really good ham! 
Looks yummy! Great job Robert!
Robert's Baked Ham with Brown Sugar Glaze 

Ingredients:
1

 

spiral cut ham with bone-in

 

approx 7-9 pounds

2

 

tablespoons

 

dijon mustard

3/4

 

cup

 

pineapple juice

 

or orange juice

½

 

cup

 

brown sugar

2

 

tablespoons

 

dijon mustard

¼

 

teaspoon

 

ground ginger

2

 

teaspoons

 

cornstarch
Instructions:
Preheat oven to 325°F.

Combine dijon mustard and pineapple juice. Brush over ham.

If your ham has a plastic disk on the bone, this should be removed and discarded. Place the ham, flat side down in a roasting pan, and cover tightly with foil. Roast 12-15 minutes per pound (or according to package directions).

Meanwhile, combine glaze ingredients and bring to a boil. Turn heat down and simmer 2-3 minutes. Cool.

15 minutes before ham is done, remove from the oven and turn the oven up to 425°F.

Brush with glaze and return to the oven until the glaze is caramelized and the ham has reached the safe cook temperature.
Notes:
If you purchase a smoked ham, it has been cooked, be sure to check the package to ensure it says it is "fully cooked". If your ham is fully cooked on the package (as most spiral hams are), it will need to cook to 140°F (basically just to heat it).