"I love my job," exclaims Kelsey Price. As a Reach for Resources Parenting Skills Educator, Kelsey says, "This is the first job I've had where I'm changing lives directly." She knows this because the individuals she works with freely admit it.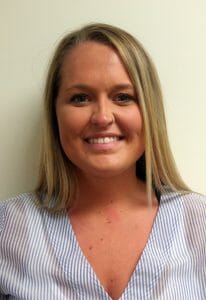 Kelsey realizes that those she works with are sometimes resistant to the impending services, often a result of a court order, but the transformations she sees are inspiring. She explains that upon first meeting someone, they may have an "I-don't-need-this" attitude, but soon recognize the benefits of working with a parenting skills educator. Within weeks, now-hopeful parents eagerly state to Kelsey, "I tried what you said and it worked!" or "I want you to see how I've been implementing the things we talked about."
Kelsey is constantly reminding parents that nobody is perfect in the role. She, too, may not have all the answers, but with her degree in degree in Child Development and Family Studies, her constant desire to research new approaches and methods, and an incredibly supportive Reach team, she is not only equipped, but passionate to share knowledge and tools. With a non-judgmental demeanor, Kelsey adamantly reminds people that sometimes mistakes simply happen. She knows that people may have been pointed in the wrong direction or that they just didn't know their options. That's where she comes in. She tailors a service plan to their specific needs, frequently helping them overcome the stigma of being associated with Child Protective Services (CPS).
Recently a CPS worker called Kelsey to report that a parent, who had previously been rather opposed to help, had now taken the initiative to reach out on her own, excited to be an active participant in her service plan. Others are equally enthusiastic. Kelsey describes that some parents are so motivated by their new awareness, that they are telling their friends what has worked for them or displaying educational tips at work.
Additional ways Kelsey has empowered families is by helping them understand how to sign up for affordable child care services, how to be "adopted" as a family for holiday gifts, and how to use a food shelf. She explains that in many cases, the parents may not have the communication skills or feel too overwhelmed with anxiety to handle these responsibilities themselves. Kelsey says that simply by accompanying them, she is able to be "a positive support for them."
Juggling usually about 15 families at any given time, Kelsey works with each for approximately two hours per week, just as the three other Reach staff members in this same capacity do. The time together may focus on proper discipline guidelines; communication skills, including how to foster a secure attachment; or even how to play games as a family (and the sportsmanship that goes with it). Generally working with each family for over three months, Kelsey concedes that it's hard not to get attached and can be difficult to say "good-bye," though some families do reach out afterward.
Reach was thrilled to say "hello" to Kelsey and add her to our incredible Mental Health Department. You see, Kelsey has only been in her role since July. "I'm so grateful for this company…I knew I wanted to work for a non-profit, but I didn't know what. I'm so happy it is here."
Reach feels the same about Kelsey, because despite her short tenure, she has already impacted numerous lives for many years to come.