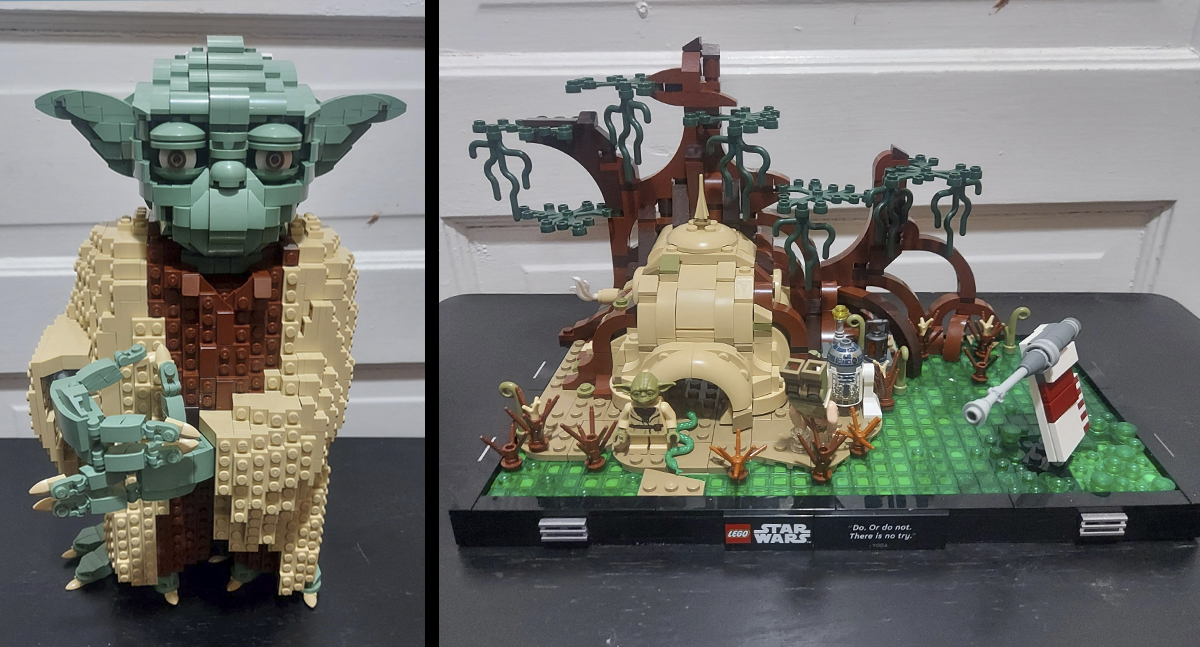 May is Mental Health Awareness Month and more than ever, it's important to take care of yourself and your well-being. Just like a lot of us, Sonya is trying to maintain a healthy work/life balance while also finishing her last semester of college. To de-stress and avoid exhaustion and burnout, in the last year, Sonya has picked up a new calming activity: LEGO® building. How did Sonya get into this activity? Her sister. Sonya said she started helping her sister put together kits and slowly started to really enjoy it. Then for Christmas, she was gifted one of her very first sets, Star Wars: Yoda® and fell in love with LEGO® bricks! For one of her very first sets, Yoda was a big undertaking; over 1,770 pieces, elements that light up and it stands over 16" tall upon completion. Since finishing this set, Sonya has completed other kits including: numerous Brickheadzs®, Luke Skywalker's X-Wing Fighter® and other Star Wars, Lord of the Rings and Disney themed sets.
For Sonya, not only is it fun building these projects but they de-stress her after a long day of work or school. She says, "Focusing on my LEGOs instead of the stress, it just clears my mind. Doing it in a very calming, quite atmosphere, really centers your focus." This is most evident when she's writing papers for school. "When writing a paper sometimes I get stressed. I will stop, LEGO® for a bit and then go back to finishing the paper. It resets the brain."
Everyone has different ways they deal with stress, but Sonya highly recommends giving LEGO® kits a try if you haven't already. With LEGO® kits available in a variety of themes and price ranges, there's something for everyone no matter your age. Plus, LEGO® building challenges your thinking, problem solving skills and fine motor skills. The best part is, you don't even know you're working on those skills because you're just having fun. As Sonya says, "LEGOs serve a dual purpose. Plus, it's a healthy, positive outlet for stress and solving your problems because you are focusing on yourself and the project." Great perspective!
What's next for Sonya and her LEGO® building? She has a couple of different things on the horizon. Sonya and her sister have started to learn about LEGO® collecting and what it takes to become a collector. Also, Sonya is planning to be the architect of her own kit by free building a space and planetarium scene. In LEGO® lingo, she's becoming a LEGO® MOC (LEGO® My Own Creation). With working at the Mall of America, it makes it convenient for Sonya to visit LEGO® Land for ideas and pieces for her free build. When asked what LEGO® kit would be the ultimate to build, she said, "The Star Wars Millennium Falcon® kit. It's like the size of a card table. Oh, that would take so long!"