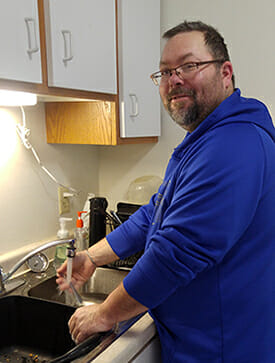 Independence is the name of the game for Mark Hayda. Mark has been living on his own in an apartment for eight years, is involved in the Knights of Columbus through his church, drives his own car, stays active with exercise and various sports activities, and has held a solid job at Walmart for four years. At Walmart, Mark clocks in for overnight maintenance shifts every Monday through Friday, and has also been asked to assist as a greeter and a cashier. With the help of a job coach, Mark envisions he will maintain this employment for the foreseeable future.
Mark's co-tenant is his lovable cat, Diamond, while his dog, Cooper, lives nearby with his parents. Mark enjoys his time with family, pets, and friends, especially looking forward to going to the family cabin or relishing his role as an uncle.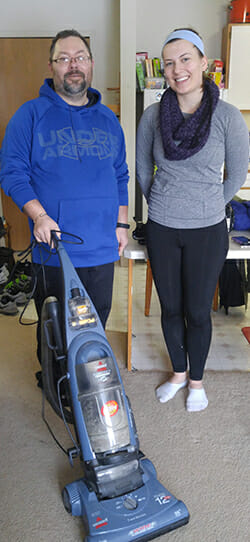 Although Mark has been receiving services from Reach for less than a year, his Community Living Specialist, Libby Bearden, says he has already made a lot of improvement. Mark and Libby meet twice each week, primarily focusing on Mark's household tasks. Mark admits he has become pretty accomplished at washing his dishes, but he is still sorting through his laundry skills. With Libby's guidance and the recent insertion of a calendar planner in his life, Mark's routine has become more organized. Announcing to Libby that he remembered to change Diamond's litter box, Mark earned her praise, "That's what I like to hear!"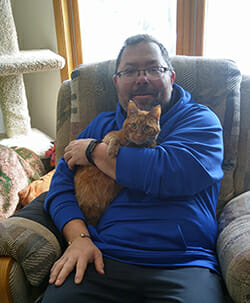 Reach likes to hear all that Mark is accomplishing and how happy he is with the services he is receiving. "They have good staff. They're very reliable," Mark says of Reach. "They help me be more independent," he adds. And Mark is proving that more and more every day.
Top right: Mark demonstrates his talent of washing dishes.
At left: Mark gets ready for he and Libby to cross vacuuming off his to-do list.
At right: Mark cuddles with Diamond.